Features
Robotalp is an All-in-One monitoring platform that monitors all your websites and services in one place. It is designed specifically for businesses that are growing.
"The perfect solution"
"Brilliant solution"
"So glad I found Robotalp"
More than an uptime monitoring tool
Robotalp is an all-in-one monitoring solution for all your websites/services. Try it free. No credit card required.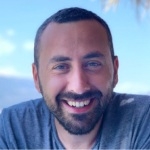 Sayra Ozden
Mar 28, 2022
I use this tool to monitor several websites and web tools I manage. Robotalp is a very easy-to-use and pragmatic solution for monitoring systems. I like the friendly and focused interface along with the functionality.

Philippe Ruaudel
Apr 15, 2022
Hi all, Robotalp is the App i was waiting for monitoring all my projects. And... I have a lot of projects. Many kinds of monitoring and CNAME status pages. The roadmap is promising for Q2 2022.
Barbas Digital
Apr 14, 2022
This is without a doubt the best tool I've found. I take care of a lot of websites and this is very time consuming and complicated. With this tool, all my problems are gone. Congratulations to the entire team.

cpf-computer
May 24, 2022
I'm impressed on how easy you can set up all the monitors. The Interface is well thought through. The Help Page shows everything you need to know on how to adjust the parameters.