Pagespeed Insights Monitoring
If the PageSpeed scores of your website are low, your competitors are well-prepared to attract customers by loading their pages faster. Slow page load speed negatively impacts user experience and hampers your website's SEO by causing a significant drop in search engine ranking. Keep track of your PageSpeed scores and be alerted whenever there are any low scores.
"The perfect solution"
"Brilliant solution"
"So glad I found Robotalp"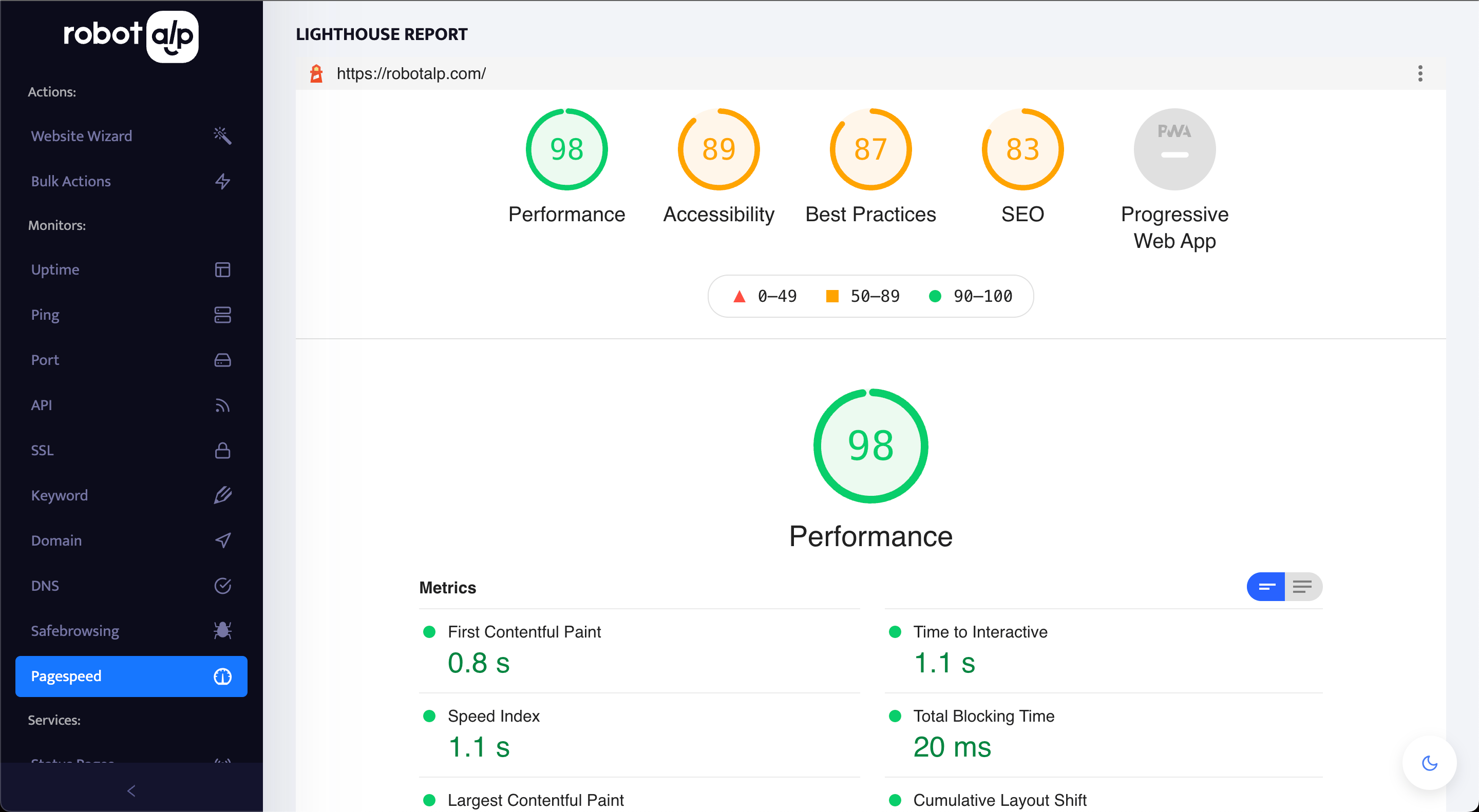 What is pagespeed monitoring?
Google PageSpeed Insights is a service offered by Google that analyzes the content of a page, then generates suggestions to optimize your website. These suggestions are based on best practices for speed developed by many experts in the industry. Page speed is not an indication of how Google ranks pages or websites, but it is an important factor for some search engine results.
Pagespeed insights helps webmasters understand how Google crawls and sees their site so they can make appropriate optimizations for faster loading. Google PageSpeed Insights reports on the real-world performance of a web page for mobile and desktop devices and provides suggestions on how that page may be improved when analyzing a single page.
Pagespeed monitoring helps to monitor your PageSpeed scores and get notifications if any of scores are low.
Why should you use a pagespeed monitoring service?
If a user is waiting more than a few seconds for your page to load they are likely to leave and your competitors are more than ready to nab customers from you with a quicker page load. SEO is hugely impacted by slow page load speed which means your ranking significantly drops. This pagespeed monitoring tool allows web masters to identify and correct problems before they escalate into expensive or time-consuming issues. Pagespeed monitoring services are ideal for managing page speed problems and help improve your scores.